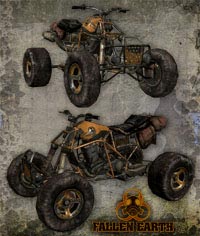 ATV is a Science tradeskill knowledge. This knowledge is learned as a reward from the ATV mission-line beginning with Building Your ATV (Level 5+) in Embry Crossroads (via John Harris) and ending in Pass Chris.
ATV knowlege is required to craft all other vehicles, and is the only vehicle knowledge that requires a mission chain to obtain. You must complete this mission in order to construct all other vehicles in the game, no matter how high your player level is. This knowledge cannot be bought or crafted outside of this mission. 
You will need to be at least Player Level 10 and have a Coordination of 20 in order to drive one. ATVs are a requirement in order to craft higher level vehicles like Motocycles and Dune Buggys. You will need Science level 45 to construct one. 
Models
ATVs and their associated Generators
Community content is available under
CC-BY-SA
unless otherwise noted.