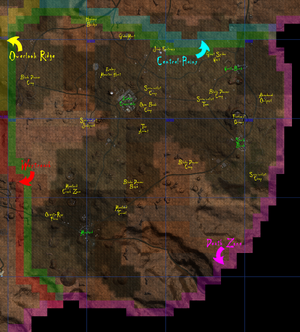 The Embry Commonwealth is the Plateau's wealthiest county, and is home to the sector's capital, Embry Crossroads. The Techs have taken residence in the town of Mumford in the southwest, where they are working to salvage the remains of a crashed satellite. While in the east the Vistas are fighting against survivalists in South Burb and the Lightbearers work to cure an unknown disease in North Burb.
PVP Zones
Edit
Other Areas
Edit
A little settlement build on top of a highway bridge.
The Blade Dancers' largest and most secure fortress. It is their headquarters and residence of their leader Loki and a number of his lieutenants. The Junk Fortress is built from an abandoned parking complex that serves as a nearly impenetrable bastion.
The Mumford Crash Zone is named due to a satellite that crash landed in the area creating a pair of craters and strewing technological junk all around the area. Blade Dancers have invaded the area to scavange while Mumford's salvage crews are working to gather the valuable technology.
The spot where the Embry Crossroads Monster Hunt takes place.
The junkyard to the southwest of Embry is filled valuable materials that a clone may need, but Survivalists have taken residence and are not happy to share.
Trending pages
All items (71)
Community content is available under
CC-BY-SA
unless otherwise noted.