Sector: Kaibab Forest
County: Timberland
Faction: Techs
Waypoint: /waypoint 6595282 5830058
LifeNet Fast Travel Terminal: /waypoint 6601389 5801349
Garage: /waypoint 6597602 5799701
Bunker Bar: /waypoint 6586676 5846051

Description
Chemtown is Techs home base in the Kaibab Forest.
Vaults
Merchants
Trainers
Conversers
Managers
Enemies
Missions
Notable Information
At /waypoint 6599410 5859731 you have the Event CoGs Are Attacking! - Protect Chemtown from CoG Attacks. Destroy the CoG Statue. First find the location nearby chemtown at the CoG Camp. Then try to destroy the Statue during the attack of 5 respawning CoG Attackers (Meele). After you destroyed the Statue, the Attack goes on. You have to kill the Rest of the CoG Attackers, which runs in groups of two or three to some Tech Buildings. Don't let them pass. You loose the event, if they reach and destroy these buildings!
Facilities
Gas Station (/waypoint 6597602 5799701)
Mailboxes

(/waypoint 6600210 5833986)
(/waypoint 6591335 5834536)
Workshops
Armorcraft Workshop (/waypoint 6586483 5837281)
Ballistics Workshop (/waypoint 6587235 5836720)
Construction Workshop (/waypoint 6592091 5841869)
Cooking Facility (/waypoint 6582729 5844424)
Medical Lab (/waypoint 6593978 5828922)
Mutagenics Lab (/waypoint 6599431 5829944)
Nature Facility (/waypoint 6595136 5832386)
Science Lab (/waypoint 6597152 5826967)
Weaponry Workshop (/waypoint 6600733 5829108)
Satellite Images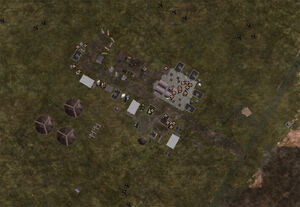 Community content is available under
CC-BY-SA
unless otherwise noted.