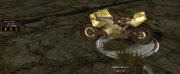 Item Level:
25
Mount Type:
Combat
Strength:
105
Fuel Type:
Can of Gasoline
Fuel Capacity:
40000
Fuel Efficiency:
350
Acceleration:
Fast
Slope Angle Limit:
400
Max Turn Angle:
1000
Braking:
250
Paintable:
Yes
Craftable:
Yes
Health:
300
Storage Slots:
10
Weight Capacity:
92.5 kg
Skill Req:
35 Coordination
Repair Kit Type:
Basic Vehicle Repair Kit
Triggered By:
Combat Motorcycle Key
Crafting
Requires Improved Motorcycle Research, learnable at Science skill 75; either bought or crafted by a player.
Like most mounts/vehicles from tradeskills, the Motorcycle is composed of five components: Improved Gas Motorcycle Engine, Improved Motorcycle Tires, Motorcycle Control System, Reinforced Motorcycle Frame, and 60 Basic Vehicle Repair Kit.
Community content is available under
CC-BY-SA
unless otherwise noted.