(6 intermediate revisions by one other user not shown)
Line 1:
Line 1:
 
⚫
−

{{Update|reward}}

 
−

Duneworm Sighting! is a [[:Category: World Events|World Event]] north of the [[Old Kingman Prison]].

+

Duneworm Sighting! is a [[:Category: World Events|World Event]] north of the [[Kingman Prison]].

 
 
 

* Location: 4174987 3653209

 

* Location: 4174987 3653209

Line 6:
Line 6:
 

* County: [[Kingman View]]

 

* County: [[Kingman View]]

 
 
 
+

===='''On The Map'''====

⚫
 
 
⚫
 
 
 
⚫
−

== Progress ==

 
⚫
 
 
 
−

=== Kill the Duneworm ===

+

======

 
⚫
⚫
 
 
 
 
+

Kill the [[Enemy: Duneworm|Duneworm]]

⚫
 
−

</blockquote>

 
 
 
 
⚫
−

At the location a rampaging [[Enemy: Duneworm (World Event)|Duneworm]] has to be killed by the players.

 
⚫
 
−

<blockquote>World Event Reward

 
 
 
 

You have been rewarded for participating in a World Event.

 

You have been rewarded for participating in a World Event.

−

</blockquote>

 
 
 
−

Once the Duneworm is dead, the participating players are rewarded with 600 chips and 1 AP.

+

Once the Duneworm is dead, the participating players are rewarded with 600 chips and 1 AP.

 

[[Category:World Events]]

 

[[Category:World Events]]

 
+

[[Category:Kingman View]]
---
Latest revision as of 20:10, 22 April 2018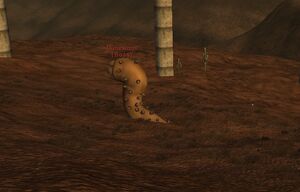 Duneworm Sighting! is a World Event north of the Kingman Prison.
Duneworm Sighting!
A giant Duneworm has been spotted rampaging in the plains.
To complete the event there is one goal to achieve:
Kill the Duneworm
You have been rewarded for participating in a World Event.
Once the Duneworm is dead, the participating players are rewarded with 600 chips and 1 AP.
Community content is available under
CC-BY-SA
unless otherwise noted.