On The Map
Outsider Invasion
Shut down the Outsiders Cloning Pods. Talk to Ryan Winters on the road outside of The Outpost. Destroy 3 Outsider Pods.
Outsider Invasion event appears in the middle of the Epsilon Zone near Lifenet Labs.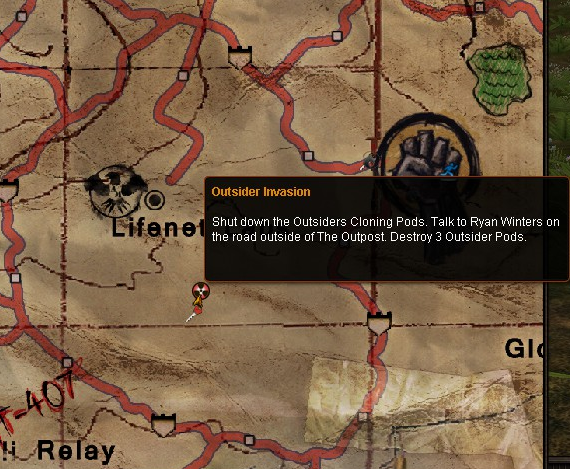 For successful completion this event you need to destroy 3 Lifenet Pods which are defended by Outsider Guards. After that you need to kill 60 Outsider Sharpshooters and destroy The Unknown.
NOTE
When event appears on map you have 45 minutes to gather team at least 5-6 players. Since you begin shoot at Lifenet Pods time 20-25 minutes start to count for completion event. That's why you need gather team with good DPS.
Remember if you start shoot at Lifenet Pods with less players you have high chance that event fail because you will need more time then event has. Event then finish without reward resource nodes or simply event, enemies or The Unknown disappear (many players think it's game bug but it isn't).
So again, you have 45 minutes to gather team and then you have another 20-25 minutes for completion event, so don't be impatient.
After you kill 60 Outsider Sharpshooters then leader of team/raid should set master loot because The Unknown (Master) appears. Rules of leading team and looting master should be similiar to rules in Citadel defense raid.
The Unknown drops standard crafting components and these special components:
in amount 0-1
in amount 0-2
That's why leader of team/raid should tell what The Unknown dropped and let players to roll to win prize (command /roll or /random in team chat). Player/s with highest number from rolls win/s.
When The Unknown is defeated resources hammer appears on map and you get a lot of nodes in event area as reward.
Reward Resources
Reward Resources
Additional resources are in this area for a short time.
Once the event is over, a few reward nodes spawn for 30 minutes near Lifenet Labs.
Community content is available under
CC-BY-SA
unless otherwise noted.