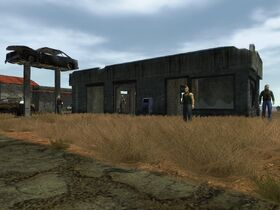 Garages are normally located just outside each city, and contain a Stable Manager, Garage Manager, Horse Merchant, and Fuel and Feed Merchant.  Garage Managers allow you to store unused mounts, and "tow" any mount to your current location, no matter where you left it (including horses) via the "tow" and " park" icons when you talk to them. There is a fee for towing mounts or vehicles, but it is typically so small as to be trivial. Garage merchants will also sell items to fuel and repair your mounts and vehicles. 
Garages are almost always within a short walking distance from a LifeNet Bunker in order to minimize the time it takes players to get back their mounts after dying.
Garages are not safe havens and are not patrolled. Nearby enemies can still attack you there. NPC enemies do sometimes wander within range of the Garage NPCs. 
All players after Patch 2.4 have a new ability called "Find Closest Garage" under their general abilities. This ability will give you a mission and a waypoint that leads to the closest garage.
Prior to Patch 1.9.2, these locations were also the start of the ATV missions, or they contained an NPC to tell which cities do have the missions. NOTE: The following lists of garage locations is far from complete.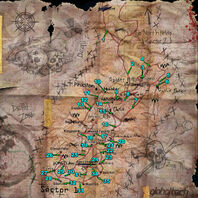 Community content is available under
CC-BY-SA
unless otherwise noted.