Sector: Northfields
County: Union Plains
Waypoint: /waypoint 4480735 5516936
Tourist Telescope: /waypoint 4477008 5513505
LifeNet Fast Travel Terminal: /waypoint 4482942 5510308
Garage: /waypoint 4429424 5476841
Bunker Bar: /waypoint 4473757 5513308 and 4512315 5499523

Description
New Flagstaff is the capital city of Northfields (aka Sector 2). The City is officially controlled by the Union. There are several areas of interest surrounding the city. These areas either have NPCs with missions, or NPCs & mobs involved in missions.
Vaults
Merchants
Trainers
Conversers
Managers
Enemies
Missions
Other Points of interest
Inside the city are several noted Union strongholds:
The Archive Annex for the Northfields Book Collections can be found at 4513503 5516655
Notable Information
Satellite Images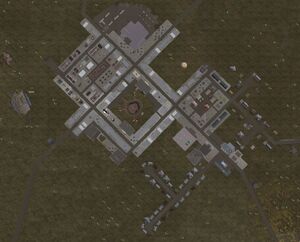 Wastelander Achievement
Community content is available under
CC-BY-SA
unless otherwise noted.