Sector: Northfields
County: Union Plains
Faction: Shiva's Favored
Waypoint: /waypoint 4110587 5386246
Tourist Telescope: /waypoint 4108529 5381788 (Dusty Chest)

Description
The Shiva's Favored have made the old school their new home. The Location is full of Veteran Enemys like Blight Wolfes, Underdweller and Shiva's Favored at Level 27/28.
Merchants
Trainers
Conversers
Managers
Enemies
Missions
New Flagstaff University Missions

Robert Neville with Mission: Stop Worrying and Love the Bomb
Maps
First Floor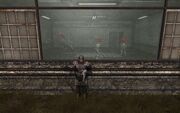 Community content is available under
CC-BY-SA
unless otherwise noted.