Sector: Plateau
County: Embry Commonwealth
Waypoint: /waypoint 4390929 3263711
Tourist Telescope: /waypoint 4376618 3272695
Garage: /waypoint 4394386 3291642
Bunker Bar: /waypoint 4391371 3269135

Description
North Burb is a South Plateau town near the northeast edge of the Embry Commonwealth. The town is home to many Lightbearers, and has a Lightbearer temple on its south side. The town is recognized as the largest producer of medical supplies in the Plateau. It is also home to Sister Kenyon, the mother of Timothy, a disturbed boy who had murdered his teacher, left town, and later reappeared under the name of Loki. He founded the Blade Dancers, and now leads that organization as part of his delusion of being a god. He directs their actions from his command center in the Junk Fortress northeast of Embry Crossroads.
Vaults
Merchants
Trainers
Conversers
Managers
Enemies
Missions
Satellite Images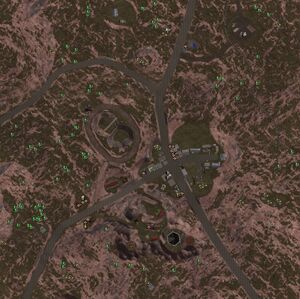 Explorer Achievements
The North Burb tourist achievement is also part of:

50
References
Community content is available under
CC-BY-SA
unless otherwise noted.