Sector: Northfields
County: Forest Edge
Waypoint: /waypoint 5108141 5418666
Tourist Telescope: /waypoint 5108859 5395282
Garage: /waypoint 5171448 5414142

Description
The remains of a crowded industrial park is the center of conflict between factions vying for control of a refurbished water treatment plant. Keep the deadly city streets safe and gain access to faction- specific merchants and nodes. Tinkersdam is a Conflict Town suitable for players ranging from levels 20 to 30. If you are above this level a Level 30 PvP Debuff will be placed upon you.
Vaults
Merchants
Trainers
Conversers
Managers
Enemies
Missions
Factional Camps
Tech
Waypoint: 5118097 5371220
Enforcer
Waypoint: 5112368 5377247
CHOTA
Waypoint: 5123764 5402381
Traveler
Waypoint: 5126022 5388370
Lightbearer
Waypoint: 5081759 5400787
Vista
Waypoint: 5100201 5405348
Notable Information
Around town you will find a lot of Discharged Clothes (Ragged Synthetic Cloth), Scrap Piles (Scrap Carbon Steel) and Junks of Plastic (Scrap and Salvaged Plastic).
Satellite Images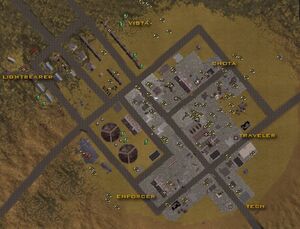 Community content is available under
CC-BY-SA
unless otherwise noted.