Hello my name is Cristina and I enjoy playing Fallen Earth. Something that really interests me are Serendipity Mobs. I hope to find all of them at one point. But for now let's get on with the topic.
WARNING: All of these finds are not in order in the time I found them, Some I found earlier or later on than others shown.

Number: 1
Serendipity Mob: Elder Pale One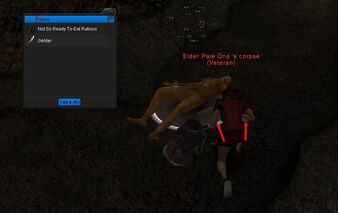 Time Taken: 20-30 Minutes
Loot: Gelder (One-Handed Melee Weapon)
Location: Tannerfield Catacombs (Kaibab Forest, Sector 3)
Story: I usually farm Pale Ones at the Catacombs in Tannerfield due to their nice loot tables and other goodies they drop. Little did I know there was a Serendipity Mob in here. His name is the Elder Pale One. When first encountering him I was shocked to see a (Veteran) in this location and went on to kill him. I kept farming and encountered another in just a few minutes. Then after that one I found another. Overall this guy is very easy to spot. In 5 hours (Day I: 3 Hours, Day II: 2 Hours) of farming I encountered him 11 times. I think it was in the 10th time that I decided to look for all Serendipity Mobs and decided to take pictures of the loot and him and post them on the wiki. This is what made me start hunting down Serendipity Mobs and this is where it starts.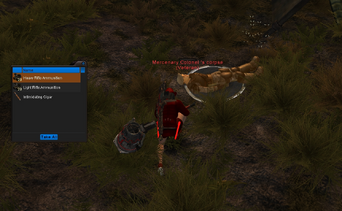 Number: 2
Serendipity Mob: Mercenary Colonel
Time Taken: 11 Hours
Loot: Intimidating Cigar (Mouth Piece)
Location: Docuer's Court (Kaibab Forest, Sector 3)
Help From: DannyDesktop, California Lily
Story: This is probably the toughest one to find so far. It took me 11 Hours (Day I: 4 Hours, Day II: 7 Hours) to find 2 of them. Yes two of them cause I my friend wanted one so I decided to take on the challenge on finding two. In Day 1 I didn't find a single one, but in the second day I found 2. One was found after 5 hours of total farming. The second was found at the 11th hour. In both times there was always someone around me. I don't know if It affects the rate somehow but both times two people showed up to try and farm it as well. Right when they left a Veteran appeared. It's not an easy drop but it's a really great item for both bonus and looks.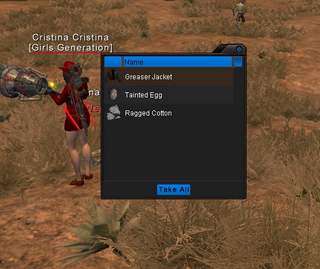 Number:
3
Serendipity Mob: Weeping Rotter
Time Taken: 5 Minutes
Loot: Greaser Jacket (Back Piece)
Location: Rest Stop (Plateau, Sector 1)
Help From: DannyDesktop
Story: This one was easy due to the high luck, but contained the most errors of all. I went with my friend to Rest Stop to fight the Weeping Rotter. He had been looking for 2 Greaser Jackets (1 for me) while I was looking for the Cigar (explains why I was looking for 2 Cigars). As Day 1 ended, I ended up buying a Greaser Jacket for 1 Red in AH (Thinking he wouldn't get a second one, but to my horrible luck he actually did) which also explains why I have one on in the picture. No pictures were taken from him so we decided to go there again and loot a 3rd one. After wandering around for about 3-4 minutes I found one in the fields. I took pictures of him and everything. Then I killed him and down to the floor he fell. Got the loot and that was that, but wait, I had forgotten to take a picture of the loot -_-. So here we go again to look for another. I thought we would take long so I teamed with him (Forgetting to put "Free Loot") and about 5 minutes later he tells me he sees one out in the fields again. I go and kill him and falls right to the ground. I go and loot him and it was not my turn to loot, but his turn to loot. So this is why my character appears standing in the picture and you can't really see the rotter since my friend was covering himself -_-. We went on to find a 5th one but I decided that the picture was good enough for the wiki and we left with 2 new Jackets.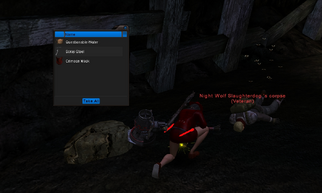 Number:
4
Serendipity Mob: Night Wolf Slaughterdog
Time Taken: 1 Hour
Loot: Crimson Mask (Mouth Piece)
Location: Reyes Mine #4 Inside the Mine (Plateau, Sector 1)
Help From: DannyDesktop
Story: This one wasn't that hard but you tend to encounter a lot of people around since it is a low level area. The whole mine has 35 enemies in total and it took about 20 runs total. I was with my friend again and we decided we would split up at the end where the mine splits, and then we would run back and do it all again. About 20 minutes in, we encountered someone in the mine but left afterwards. Since this is like I said a low level area, even a level 20 can deal enough damage before a level 55 to loot the boss if not careful. Luckily that didn't happen to me. So about 50 minutes in the mine my friend decides to leave so now im alone in the mine. Right after finishing run #19 I walked all the way back to do it a 20th time and to my suprise he was right there standing next to another enemy. It's not the best place for Serendipity Farming since anyone can enter the mine and get lucky by seeing a Veteran spawn right in the beginning while your at the end. Good thing it was a quiet night. 
Number:
5
Serendipity Mob: Hulking Rotter
Time Taken: 2-3 Hours
Loot: Suzette (Two-Handed Shotgun)
Location: Plateau-Northfields Waste (Plateau, Sector 1)
Story: This was the first Serendipity Drop I ever encountered. I was level 11 at the time and I decided to go look for a place with better loots such as Scrap Plastic or Salvaged Wood. Never gone to Sector 2 I decided to go past Spider Hill and into Sector 2 hoping to see newer and better places. As I rode my horse across the huge empty road I noticed a place with tons of Zombies (infected in this case) and decided to stop and see if they dropped anything good. I reached a place with about 4 rotters and a small building in the center, and used the building as a fort to kill the 4 Rotters. After killing the 4th one another spawned behind me and it was a Hulking Rotter (Veteran). Confused about it, I decided to go ahead and guess that he would be harder to kill than the others due to him being taller and having the Veteran sign. As I shot him I noticed he was quite easy and ended up killing him. As I checked to see what loots he had I noticed he had a Pink Shotgun inside called Suzette. It took quite a while to learn that he was in fact a Serendipity Mob and rarely spawns. I decided to pay a visit to the old place and look for Suzette (So I can update the wiki page and get myself a second one), this time knowing what I was up to. It took about 2-3 hours to find one and once again I got another Suzette. Not so hard but not the easiest to find, very worth it if you want a head start at level 7 with high damage shots.
Number:
6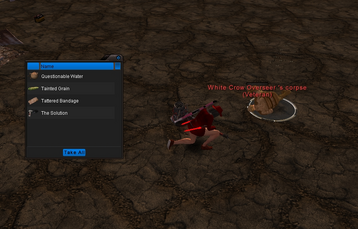 Serendipity Mob: White Crow Overseer
Time Taken: 20-30 Seconds (Read Story)
Loot: The Solution (One-Handed Pistol)
Location: Kingman Prison (Plateau, Sector 1)
Story: I decided that the next Serendipity Mob I would hunt for would be the White Crow Overseer who drops "The Solution". So there I was, outside the Prison's Main Entrance, about to look for a Mob that may take a few minutes or hours. I passed the two main guards and went to the 4 Gaunts Raiders. Took about 10 seconds and then right behind them was the White Crow Overseer. So I took longer riding there on Motorcycle than it took me to find him. He was literally just there waiting to get his picture taken, killed, and looted. Extremely Lucky break I got here especially since this place is known to be full of people all the time. Glad I got a picture of him and the loot.
Number:
7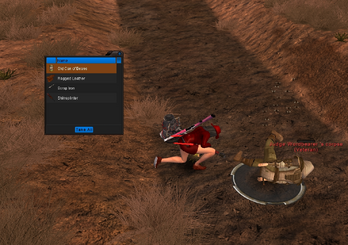 Serendipity Mob: Judge Wordbearer
Time Taken: 30 Minutes
Loot: Shinsplinter (Two-Handed Melee Weapon)
Location: Pinkston (Plateau, Sector 1)
Help From: DannyDesktop
Story: Judge Wordbearer, It's been a while since I last saw him. I was just farming the place and noticed a Veteran next to the boss. I decided to go ahead and take him out and in him was Shinsplinter. I spent a few minutes the first day, about 12 minutes and later on headed to sleep. Now the second day I logged in and it took about 18 minutes to find him. I wanted to go to the Auction House and put some stuff to sell. Thinking there would be one up in the non-hostile part of Pinkston I headed there. To my surprise I noticed the Veteran standing right next to a shed. Easy kill and of course the rare drop was gained. Not a bad place to farm since the place is low population and there's judges that spawn quickly all around. Just make a pattern and keep at it.
Number:
8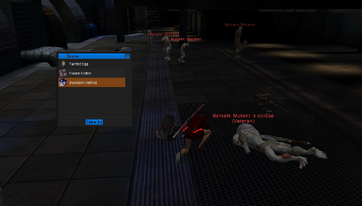 Serendipity Mob: Berserk Mutant
Time Taken: 10 Hours
Loot: Daredevil Helmet (Head Armor)
Location: Toro Been Facility (Plateau, Sector 1)
Help From: DannyDesktop
Story: After so many hours I finally found him. The info on this Serendipity Mob was minimum. There was no coordinates on where to find him, no info on what he/she was (Rotter, Throwback, The Werid Female Thing, or a Underdweller) . It took a while to learn that he/she was found inside the facility near Trumbull and not the camps with tons of similar enemies outside. Once getting there I also glitched. It wouldn't let me inside the door to the facility. Took me 20 minutes to realize that I had to relog to fix it. After going inside I proceeded to look for him by killing all those around. I noticed there was 3 sections inside, the first one had pure normal enemies, the second has tons of bosses all around, and the third has 2 bosses along with 6 normal enemies. I started farming the first part and for about 6 hours I found nothing. Seeing the lack of info on this enemy I was close to giving up and that it was probably all fake. After using google a bit more I noticed a lot of people saying he was found in the third section where the two bosses and 6 enemies are. I went there and started farming there. After 4 hours I decided that it was enough. The spawn rate in that room is 2 normal enemies and 2 bosses every 6 or more minutes. I would never find him. As I was heading out I decided to lure a bunch of enemies around me as I headed to the exit. Passing section two I had about 7 enemies on my back and as I reach the first section and close to the exit there was about 12 of them following me. As I glanced to my left I noticed an Underdweller with a (Veteran) tag on him. After all this time!! He was in the first section. There was people all around the place so they probably killed one and he spawned while they ended up getting killed or something and left him there. Well I had to worry about the 12 enemies following me first before I could do anything so that's exactly what I did. I wasn't about to die right in front of him. After taking out all 12 I went on to take his picture, but as I did I noticed he had a rifle sticking out of him. It looked like a players rifle so the only explanation is that someone did in fact fight him but ended up getting killed. I tried my best to make it look like a good picture but I heard lots of shooting all around so I just got some quick ones and then killed him. Overall this place is horrible for a Serendipity Mob, maybe not so bad now that there's acutally information on him. But going in there with no info on how he looks or where he spawns is just horrible. Having like 2-4 players inside the facility like every hour doesn't help either. Just go in there and farm the first area that's it. 
Number:
9
Serendipity Mob: Salvager Junkgineer
Time: Taken: 45-60 Minutes
Loot: Shoulder Strap Belt (Waist Armor)
Location: Odenville (Plateau, Sector 1)
Story: After finally finding the Daredevil helmet I headed South to Odenville where I would go and look for the Shoulder Strap Belt. Upon arriving I noticed it's quite an easy area to handle. Not to many enemies spread out everywhere but there is many entrances, since this is Odenville you will have to be on the lookout for lower levels who might accidentally fall upon the Veteran. Other than that it's a pretty easy place. I just went around in circles one shotting everyone until someone arrived around the area. I had to also keep an eye out for the enemies outside as well. After a few minutes I ended up seeing the Veteran face-to-face. Pretty easy to take out and of course she carried the Belt with her. She is quite noticeable even from a distance as she looks way different than the others inside.
Number:
10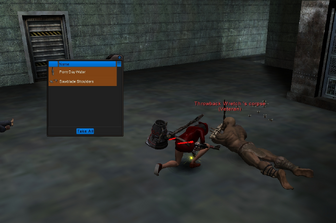 Serendipity Mob: Throwback Wretch
Time: 20-30 Minutes
Loot: Sawblade Shoulders (Shoulder Armor)
Location: Needle Eye Bunker
Story: The Throwback Wretch wasn't as hard as I thought, Knowing that it was one of these creatures in another bunker just like the Daredevil Helmet I thought I would have trouble looking for it. It's a quiet place so you can go from beginning to end just killing all the Throwbacks you see. It can spawn anywhere in the bunker and you also have a Master at the end as well. Not a bad place, I had fun looking for this one. 
Number:
11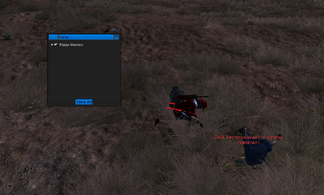 Serendipity Mob: CoG Technosavant
Time: 20 Minutes/5 Minutes
Loot: Trippy Glasses (Eye Armor)
Location: Oilville (Plateau, Sector 1)
Story: I wouldn't call this one an easy one. I found this called Serendipity Mob in some random website. The wiki didn't even have a page for the CoG. So as I went looking for him I went with my mind thinking if he was real or not. After about 15 minutes I remember that this is Oilville. Oilville tends to have a big amount of people nearby, especially when the location of this mob turn into a Resources Abound during the day. As I reached the 20 minutes I saw the Veteran out in the fields. As I was about to take pictures I noticed someone was there behind him. I took picture quickly (he was in them) and went on to kill the corpse before he had the chance. Got the loot and wait... I forgot to take a picture of the loot. So again I had to go look for another . 5 Minutes passed and I got lucky that I found another one. This time I took pictures with no rush and got pictures of the loot. Glad I was able to find him twice very quickly.
Number:
12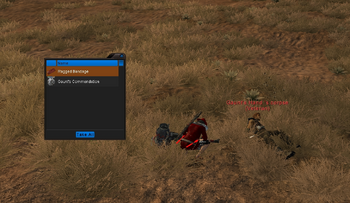 Serendipity Mob: Gaunt's Hand
Time: 1 Hour
Loot: Gaunt's Commendation (Trinket)
Location: Near Old Kingman (Plateau, Sector 1)
Story: It's a camp full of Gaunt's Helpers, the camp is location along the road from Linewood to Old Kingman. This one was another mob just like the CoG Technosavant. He along with the loot had no existance here in the wiki, so there was always the possibilty that he didn't exist. Since the whole place is covered in Gaunt's Henchmen, I decided to go around in a circle killing all the ones I see. After about 58 minutes I decided to leave it for tomorrow and continue the hunt later on since I was already falling asleep. As soon as I headed away with my Motorcycle I noticed a Veteran out in the fields. So I did what I had to do and that was it. This ends the hunt in Sector 1 and now I move to Sector 2.
Number:
13
Serendipity Mob: Devil's Own Fallen Angel
Time: 7-8 Hours
Loot: Gripster (Hand Armor)
Location: Baret Manor (Northfields, Sector 2)
Story: Well this guy was hard to find. It took about 7-8 hours just to find him. When I arrived I thought it would be easy since it looked like an empty place with mobs around a camp that allow for easy pattern killing. Well I was wrong, it's probably one of the worst and slowest Serendipity Mobs I have looked for. Also not to mention that there's tons of people always coming to the place to complete missions. By the looks of it, people have a mission to loot something inside the camp or kill the guards around. So it's best if you are in the lookout for the Veteran when people come cause they will steal it if they see it. 
Number:
14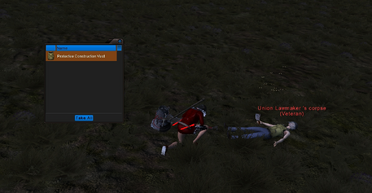 Serendipity Mob: Union Lawmaker
Time: 10-20 Seconds
Loot: Protective Construction Vest (Back Armor)
Location: Last Stop Playground (Northfields, Sector 2)
Story: In the past before I deiceded to be a Serendipity Mob Hunter, I used to farm this place a lot. The place is Last Stop home to lots of Bosses and Enemies. One day I was going through Last Stop and noticed two Veterans walking in the grass near the playground. I took both of them out and noticed they both had Protective Construction Vests. I quickly realized they were Serendipity Mobs. I got super lucky, but the question is did I really? Today I headed over to Last Stop to find the vest and take pictures for the wiki. I went around the playground looking at the mobs and looking for a good place to start killing. As I kept going I noticed one of them had the Veteran tag. Well that was easy, again! I am extremely lucky in this place. Never before have I seen two Serendipity Mobs together and never before have I seen one so quickly. This one was quicker than The Solution in Kingman Prison. Well this wis great, I always tend to go ahead and work on my blog or upload pictures after finding a Serendipity Mob. So I left my character in the playground and now it's dead. The only way they can kill me is by me going AFK.
Number:
15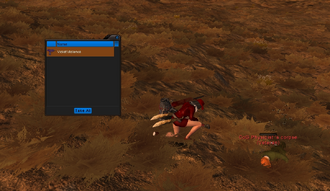 Serendipity Mob: CoG Physicist
Time: 10-15 Minutes
Loot: Violet Violance (SMG)
Location: CoG Facility next to Progress Town (Better than the Blaine place)
Story: The Violet Violance has been a Serendipity Drop that I have found many many times. I have seen the Veteran about 7 times and it has always been around the Facility near PT. People say you can find it in Blaine but I'm sure it's better to look for it at the Facility better. So I decided to go to the facility and look for another Violet Violance and pictures for the Wiki. I started going around the inner part of the facility when I noticed the Veteran was outside the area. Knowing that there was about 3-6 people around I rushed outside before anyone could see it. Didn't take that long but it usually takes about 1-2 hours for the Veteran to appear, lucky for me it spawned at the right time.
Number:
16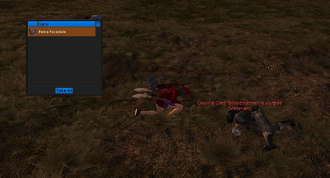 Serendipity Mob: Devil's Own Bloodbather
Time: 2 Hours
Loot: Fierce Faceplate
Location: Sunshine Corners (Northfields, Sector 2)
Help From: DannyDesktop
Story: This one was quite an easy one. The place is right outside of Sunshine Corners, there's also a place full of graves with coyotes around. The enemies have a long spawning rate so you'll usually be standing around with nothing to kill. It requires some patience and soon he will spawn. I was going around in a pattern when I noticed the Veteran behind a rock. Easy kill of course. Another thing to take note about this place is that there's about 36 enemies at the starts (if no one has killed them lately) and once you kill them all only about 9 spawn per 5 minutes. Just kill all 9 and repeat.
Number:
17
Serendipity Mob: Shiva's Favored Filthmonger
Time: 6 Hours
Loot: Salvaged Dirty Magazine
Location: Redfields (Northfields, Sector 2)
Help From: DannyDesktop, Lukasocz
Story: This one wasn't that easy. It took about a good 6 hours to find this Veteran due to the place being very large with mobs all around the fields and even near the Death Zone. It's not an easy find especially since all enemies are spread out. It is very hard to establish a pattern in this place especially since the enemies do have a 3-4 minute respawn. I suggest to stay within the city limits and just kill those near the farm fields to the West. If you go all around you'll have much trouble finding him. Not a lot of people come around here so it's usually quiet. There may be some people who appear during the Resources Abound that appears for like 2 hours so that's when being more cautious is important. Bring some people to help you out if you can't kill fast enough or you'll be there quite a few hours if you don't have luck on your side. 
Serendipity Mob: CoG Calculatrix
Time: 45 Minutes
Loot: Pinky
Location: Near Chemtown (Kaibab Forest, Sector 3)
Help From: Lukasocz
Story: I first started by going inside the building and killing some CoGs and all those inside the downstair facility. On the wiki it states certain locations on where it can spawn so keeping an eye out for those locations was an advantage. After some time I decided to head over to the other Serendipity Mob which is about 1-3 feet from the Facility, the Changed Humanoids. After killing them for sometime I headed back to the Facility but before entering the doors, the CoG was standing there with Pinky in her hands. Both spawn locations mentioned in the wiki are true but are not the only spawn places. After seeing this I think it can spawn anywhere inside or outside the facility.
Number:
19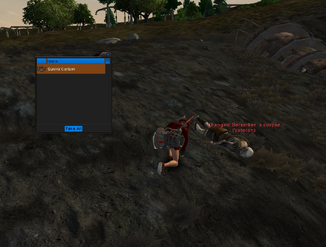 Serendipity Mob: Changed Berserker
Time: 10-15 Minutes
Loot: Survival Canteen
Location: Near Chemtown (Kaibab Forest, Sector 3)
Help From: Lukasocz
Story: After killing the CoG at the facility I headed towards Toxic Pool which is just outside the facility. This place contains over 100 enemies all over the place. You'll usually see them in packs of about 5-10 sometimes they even bunch up to a whole group of like 30-40 of them. They are not that aggressive meaning if you shoot one it won't cause all of them to run at you. It's a pretty good place to look for a Veteran since their spawn rates are also rather quicker than most mobs. After killing a few the Changed Berserker was standing there. In my opinion he looks a bit taller than the others but it's probably way easier to find him by just seeing the (Veteran) sign beneath his different name. 
Number:
20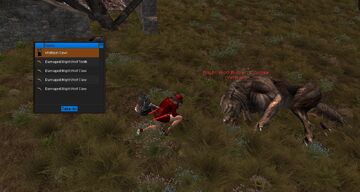 Serendipity Mob: Blight Wolf Ripper
Time: 7-10 Hours
Loot: Wolfskin Cowl
Location: Broken Pass (Kaibab Forest, Sector 3)
Help From: Lukasocz
Story: I remember that this one was quite hard cause there's two different sides with Blight Wolfs. I didn't start looking in the second side till after the first 3-4 hours went by. This place usually gets crowded up with people so always be on the lookout for the Veteran. I got help from Lukasocz after going hours with no luck. We finally ended up finding him in the second place I didn't really check till hours after. There he was and finally ended the look for him. 
Number:
21
Serendipity Mob: Survivalist Collector King
Time: 1 Hour
Loot: Welding Mask
Location: Traader's Flat (Kaibab Forest, Sector 3) Near the garage.
Story: This one as I remember was a funny find for me. I didn't take my main on this find, instead took my alt to find the Welding Mask. My alt was a level 35 at that time if i remember correctly and is a pure weapon build. She doesn't have First Aid or any kind of high health. So I went out to kill these baddies around the garage on the look for the Veteran and earn some XP as well. After about an hour I accidentally caused 3 of them to start shooting at me, I was going down in health quickly and finally I ended up dying. After respawning at the lifenet close to this place I got out and saw the Veteran from far away just standing there. I went to take pictures of him and doing so caused me to die against him. I rushed out of the lifenet knowing anyone could easily take him out, and this time ended up getting an unfair advatage of a Veteran and 2 of his allies shooting me. Before dying though I killed him which ensured me his loot. Success! 
Number:
22
Serendipity Mob: Clone Cannibal
Time: 30 Minutes
Loot: Brain Surgeon
Location: Radburg
Story: This one wasn't that bad especially cause I knew it only spawns inside the lifenet place in Radburg. Well it's not 100% confirmed it probably does spawn outside just like the Cog Calulatrix but who knows. So I went inside the place again with my alt. At this point she was level 44 and was close to using Heavy Weapons so i took her once more to look for a Drop called the Brain Surgeon. It's a fancy shotgun and a very powerful one too. There's about 6-9 zombies that spawn inside the bottom sector and once hit from them can be crucial to a level 44 especially with no heals or high health. So my strategy was to hide in a corner, wait for them to all spawn and then go around in circles (since they're slow) and kill them off one by one. It didn't take long for me to find him. Taking a picture of him was a problem though cause i needed to get close and they usually have some sort of long range hand attack.
Number:
23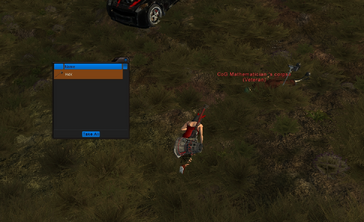 Serendipity Mob: CoG Mathematician
Time: 3 Hours
Loot: H4X
Location: Global Ruins (Deadfall)
Story: This one wasn't hard but it sure took a while. There's only about 12 CoGs so just kill them in an order and then keep doing so. Didn't see anyone here at all during the 3 hours I tried looking for H4X so Serendipity Hunt with confidence. Nothing really interesting or funny happened here so I'll keep it short. Kill Kill Kill then found him. Easy and Simple.
Number:
24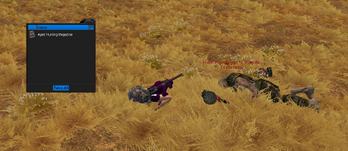 Serendipity Mob: Hulk Rampager
Time: 20 Minutes
WARNING: Hulks can be very tough to kill even at level 55 (I couldn't solo with my crap build) if you don't have a good build or good weapons. Also there is Boss Hulks around so be careful with those as well.
Loot: Aged Hunting Magazine
Location: Deadfall (Near White Crow Camp)
Story: This was considered to be a very tricky mob to find due to all the Hulks in the area being Veterans and Bosses. So how do you find this tricky Serendipity? Well his name of course, be on the lookout for his name when looking for him cause that Veteran Tag won't help you out at all. Now it took me 20 minutes to find him, I was surprised I found him so quickly. There is people around the area sometimes so be carefull, just in about 20 minutes I saw 2-3 people killing them off as well. I managed to find him by going through the camp and quickly noticed his name, without hesitation I went on to take pictures of him and then kill him off.
Number:
25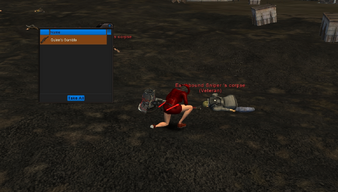 Serendipity Mob: Earthbound Sniper
Time: 2 Hours
Loot: Quinn's Gambler
Location: Blackridge (Kaibab Forest, Sector 3)
Story: I'm not exactly sure how I missed writing this serendipity. I was pretty sure I wrote the whole story on this one, but it looks I didn't. Alright so one this particular find I took my Level 43 Alt which isn't good at surviving cause of low health and no heals. I was going to use my main Cristina but I decided to get my alt to level up so I left Cristina at Blackridge as well. (At this point I had never gone Serendipity Hunting with another account besides Cristina so I always wanted pictures where my main was in them and not my alts. So I planned to leave Cristina at the front gate so when I found the Sniper I would kill him with Cristina and take pictures and everything. A terrible idea but I didn't give it any thought till after what happened.) Alright so I took my alt to Blackridge so she could get some XP as well as look for the rifle. About 1 hour in I noticed a Level 50 Traveler following me around (The whole camp is enemies all lined up in a circle around a circular fenced area) in circles until finally he tells me "What are you doing" since I kept killing the enemies around . I answered by telling him that I was just killing them for XP. He then says ok and leaves like nothing happened. About 30 minutes later another person appearsl. It was a Level 50+ Lightbearer, he told me that he knows I was looking for Quinn's Gamble and told me Good Luck. So I proceed and find the Earthbound Sniper near the front gate. I quickly go and switch to my main to kill it. When I spawn I hear consecutive shooting and to my surprise it was the first guy that I had seen the Level 50 Traveler shooting the Earthbound Sniper. If I remember correctly he had him at about 90% when I saw him shooting so at that moment I activate Precise HIt and smashed the boss in the face. As I did I tried blocking the other guys shooting from hitting the Sniper as well. Successfully I had dealt more damage than him and was able to loot it. After looting I noticed that the Traveler left, so I switch back to my alt and as I head out I noticed the Lightbearer talking to the Traveler telling him why he didn't try to get the Earthbound Sniper as planned. So they were in a group waiting for the Sniper to appear and try to steal it from me. Now all of this wouldn't have happened if I wouldn't have switched but that thought me the lesson of never to switch so that is why you'll see in some pictures of my alt.
Mythical Serendipity Mobs (Never before seen on Wiki)
Number:
1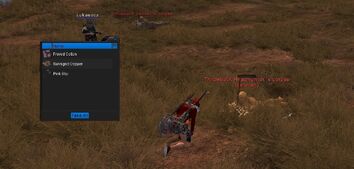 Serendipity Mob: Throwback Headhunter
Time: 1-2 Hours
Loot: Pink Slip
Location: Watchtower (Plateau, Sector 1)
Help From: Lukasocz
Story: This is the first Serendipity I went looking for without knowing no info on. Lukasocz had told me the details to this mob so we both went to look for it. The whole area is covered with Throwbacks so you can't miss the place. It took a good few hours before we finally found him. As I looted it I found a drop I've never seen before. A Pink Slip Axe!! 
Number:
2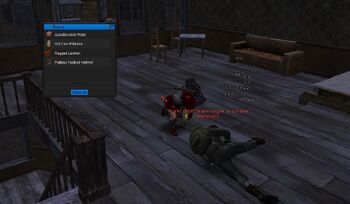 Serendipity Mob: Night Wolf Warmonger
Time: 3 Hours
Loot: Plateau Football Helmet
Location: Barrow Exchange (Plateau, Sector 1)
Help From: Lukasocz
Story: Another Serendipity with no infomation, only the help of Lukasocz. He pointed out that another Serendipity could be found in Barrow Exachange in Sector 1. The whole palce has Night Wolfs and its a pretty huge area, also has a tunnel that goes underground where more of them can be found in there. I'm not sure if it spawns in the underground tunnels so I can't confirm on that. But anyways just loot the outside place and you should be good, After about 2 hours of looting Lukasocz had to leave so I was left alone to find this Serendipity. Like 14 minutes later I found him inside a house . To my surpise the loot was the Plateau Football Helmet, A helmet lots of people have talked about where to get it and no one would spill the info on. Finally confirmed to be dropped from a Serendipity!
Number:
3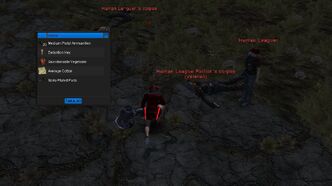 Serendipity Mob: Human League Patriot
Time: 5 Hours+
Loot: Spiky Plated Pads
Location: Kaibab Forest (Beneath Bunkers Hole in that scratched out area)
Help From: Lukasocz
Story: Out of all Myth Serendipity Mobs this one has been the hardest to find. Took quite a while to find him especially since this has to be the biggest area and most populated a Serendipity Mob can be found in. There's Bosses, Masters, Veterans and Normal Enemies all around the whole place. Just make a pattern and kill them off, it's not easy but with patience it's possible. This place is heavily populated im surprised this Serendipity isn't listed on the Wiki.
Help From
The people mentioned in the Help From section helped me by finding the Veteran, supporting, or helped me kill mobs in large areas. The stories don't mention them as of now, I'll be updating them later on. But from me I thank you for the things you guys have done to help.
Community content is available under
CC-BY-SA
unless otherwise noted.