Sector: Kaibab Forest
County: Northern Forest
Faction: Children of the Apocalypse
Waypoint: /waypoint 6147548 5423301
LifeNet Fast Travel Terminal: /waypoint 6145289 5450245
Garage: /waypoint 6150791 5445480
Bunker Bar: /waypoint 6141437 5414936

Description
Warhall is the main CHOTA town of Kaibab Forest. The town is an old abandoned Municpal airport. Small light aircraft are strewn all over town. There are multiple hangars providing a central gathering point. An old satellite dish sits on the ground long broken from it's base.
Vaults
Merchants
Trainers
Conversers
Managers
Enemies
Missions
Notable Information
Mailbox

(6138369 5426511)
(6132000 5419693)
(6124907 5420280)
(6125989 5421231)

Auctioneer (6131790 5429153)
Near the Town - 2x Curious Debris at 6173171 to 5404099
In the Town - Curious Debris at 6134413 to 5442940 / 6113202 to 5423855
Various Workshops
Satellite Images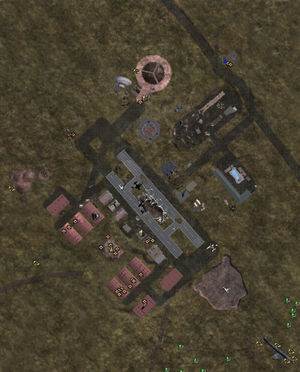 Community content is available under
CC-BY-SA
unless otherwise noted.